Description
Every Essential Oil set will automatically include a Zatural Ultrasonic USB Diffuser. Freshen up any workspace, room, or home with just 30 minutes of blissful mist. Pair with Zatural's beautifully crafted CBD-infused essential oil blends, to freshen and restore balance. 
What makes this essential oil different than other Essential oils? All our essential oils are CBD-infused, which means topical and aromatherapy benefits. However, when CBD is diffused the terpenes released have a variety of benefits.
Terpenes are compounds that give things their unique smell. There are over 20,000 terpenes and they all have unique benefits. When combined with essential oils, terpenes in CBD oil enhance the effects of the essential oils.
There are various ways to receive these benefits: you can massage them into your skin, put them in a diffuser, and even spray them onto your pillow before bed. Zatural's new line of CBD Infused Essential Oils will offer many options so that you can find a natural solution and keep it Zatural.
Please COMMENT in the notes during check out, what color of diffuser you would like. We offer wood, white, white wood, and dark wood-colored diffusers.
Click here for more information about CBD aromatherapy
For more information visit: 
Suggested Use
For individual direction please visit the individual links:
Ingredients

For ingredients go to:
WARNING: Citrus essential oils are known for causing Photosensitivity after application and exposure to direct sunlight. Because of this, we recommend that you wait approximately 12 hours after application before exposing the skin to the sun. If you apply citrus-based oil and then expose the application area to direct sunlight, you could experience redness, itching, burns, blisters, and permanent skin discoloration.
Lab Test
For lab tests please go to individual product listings:
FAQ

What is aromatherapy?
Aromatherapy has been around for thousands of years, with various oils of plants being used for natural therapies. What makes up these oils is a compound called terpene, which houses the scent of each oil.
How does aromatherapy work?
Smelling something triggers a response in the receptors inside of your nose. This sends a signal to your brain, which activates the olfactory cortex: AKA that part of your mind that recognizes the smell. Have you ever smelled something and had a memory of something? That's another part of this process. This is how aromatherapy works. Certain smells can help you relax, boost your mood, ease stress, along with many other benefits.
Why do you put CBD with essential oils?
CBD Aromatherapy is starting to be a useful new trend. CBD has also gained much popularity for its various benefits for people and pets, and essential oils are known worldwide for their therapeutic properties. Cannabinoids Your body has a system of receptors called the endocannabinoid system. This system is throughout your whole body and your brain and responds to cannabidiol, or CBD, which is why your body responds to CBD as a natural remedy for many conditions. When CBD binds to those receptors, it may trigger a balancing response in your body.*
What are terpenes?
What makes essential oils (and CBD) smell are compounds called terpenes. A plant such as lavender or eucalyptus typically only has 1 or 2 distinct terpenes, which is why the scents of those plants are also different. When you look at a plant like cannabis, there are over 100 terpenes that can also be used to create an essential oil.
How will CBD essential oils benefit me?
There are various ways to receive benefits: you can massage them into your skin, put them in a diffuser, and even spray them onto your pillow before bed.* Zatural's new line of CBD Infused Essential Oils will offer many options so that you can find a natural solution to assist with stress, mood, rest, and more…
What CBD essential oil products does Zatural offer?
Great question! Our list continues to grow, but for now, we have:
1. pure, undiluted oils that are great to diffuse and smell directly out of the bottle or to put on a pillow at night.
2. roll-on that is diluted with hemp or MCT oil. These can be applied directly to the skin.
3. bath bombs, who doesn't love a bath to boost the immune, help you sleep, calm your stress, or boost your mood.
Can I use too many CBD essential oils?
We don't think so, but it may be different for each person. We recommend: diffusing until you see results, applying external until you feel effects, and soaking in the tub for 20 minutes or more.
Video
Disclaimer
To be in compliance with U.S. government rules and regulations, we do not make any medical claims regarding our products. This product is not for use by or sold to persons under the age of 18. This product should be used only as directed on the label. It should not be used if you are pregnant or nursing without consulting a physician.  Consult with a physician before use if you have a serious medical condition or use prescription medications. A Doctor's advice should be sought before using this and any product.
All trademarks and copyrights are the property of their respective owners and are not affiliated with nor do they endorse this product.
FDA DISCLAIMER – The statements made regarding these products have not been evaluated by the Food and Drug Administration. The efficacy of these products has not been confirmed by FDA-approved research. These products are not intended to diagnose, treat, cure or prevent any disease. All information presented here is not meant as a substitute for or alternative to information from healthcare practitioners. Please consult your healthcare professional about potential interactions or other possible complications before using any product. The Federal Food, Drug, and Cosmetic Act require this notice.
By using this site you agree to follow the Privacy Policy and all Terms & Conditions printed on this site. Void Where Prohibited By Law.
Individual results may vary.  If you are not fully satisfied with your purchase, you may request a full refund on the purchase price within 30 days.
1Full Spectrum may not contain every Cannabinoid found in Hemp. THC removed.
2Parts of the plant used are Full Spectrum
3Natural Flavor is 100% Hemp Seed Oil and CBD. Flavored options do contain added flavors and sweeteners
43rd party lab tests are provided with a detailed breakdown
53rd party lab tests provided. THC removed to a below limit of detection
Customer Reviews
Write a Review
Ask a Question
05/26/2021
Jessica M.

United States
Worth it!
Got this for my husband as an anniversary present to help with sleep. For the times he needs sleep but he doesn't want to be completely knocked out since he needs to wake up early this works (deep sleep). I've also noticed a significant difference when using the stress away and mood boost.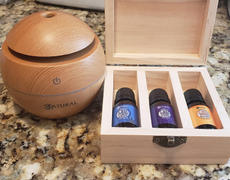 04/05/2020
Patsy F.
Volcano, California, United States
More than Pleased!
I was pleasantly surprised at the quality of both the product as the packaging. The diffuser is on the small size but very powerful and continues to work well. No disappointments at all! I like the three cbd oils I chose to go in the "Build your own set" offer. However, the choices were limited and I would have liked to choose any of the essential oils that are available. So, in addition I ordered the CBD4Thieves, which I really love! I'm used to the Thieves of another well-known brand, but this one smells just as comparable and with the addition of cbd. So when one smells it, an immediate feeling of deep calm is present. Admittedly, I've been using that in my wonderful diffuser and have not used yet the other three that came with the set. Because I loved it so much and wanted to share the experience, I ordered a set plus the 4thieves for my young adult granddaughter and had sent to her. I can't wait to hear back from her.